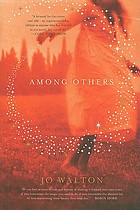 As I mentioned before, Jo Walton's book Among Others struck me as a kind of fictional version of her book of essays What Makes This Book So Great. But Among Others isn't just chit chat about science fiction and fantasy books in the context of a novel, it is more than that.
The story is told in the form of a diary, but the diary is being written as a kind of memoir. The diary's author is 15-year-old Mori and the entries date from fall of 1979 to spring of 1980. Mori, who is Welsh, has recently been sent to live with her father whom she has never seen before. He lives in England with his three sisters and they all decide to send Mori to boarding school. We don't know much at first about why Mori was sent to live with her father, but as the entries pile up, we learn she had a twin sister who was killed not long ago when the two of them, with the help of the fairies, stopped their insane mother from doing some evil magic.
If you are opposed to fairies and magic in your books then don't bother reading this one. If you are on the fence about them, it might help to know that this isn't Harry Potter-type magic and the fairies aren't the prettied up Disney kind. And while the fairies and the magic are a big part of the story, they are not THE story. Because the novel is actually about Mori dealing with the grief of losing her sister and figuring out who she is without her and who she wants to become. Mori is a smart girl, but even smart girls don't know everything.
You might think the others in the title are the fairies, but that is not the case. Mori escapes a very bad home environment with her mother and in the process is forced to leave behind all of her friends, her beloved aunt and her grandfather to live among other people she does not know. The others are her father and his sisters and the girls at the boarding school. It is an entirely new environment and situation she needs to learn to navigate on her own. She makes friends and enemies and learns a lot about herself and getting along with others; loyalty, ethics, friendship.
A main delight of the book is how important books are to Mori, not just SFF books, though those are her favorite, but books and reading in general. She makes friends with the librarian at her school and the librarians at the public library in town. She is invited to join a book group. She talks about books with her dad and she meets his father who also turns out to be a reader and they talk about books too. It is a wonderfully bookish book.
I mean, how can you not like a character when, right at the start she says:
I have books, new books, and I can bear anything
And, as the person who does all the interlibrary loans at my library, how can I not love Mori and by extension Jo Walton when she says:
Interlibrary loans are a wonder of the world and a glory of civilization. Libraries really are wonderful. They're better than bookshops, even. I mean bookshops make a profit on selling you books, but libraries just sit there lending you books quietly out of the goodness of their hearts.
This is the first Jo Walton novel I have read. I worried with all the love she gets that I might be disappointed because my expectations were pretty high. I shouldn't have worried. Now I have the pleasure of knowing there are a whole bunch of Walton novels out there just waiting for me to read. Hooray!