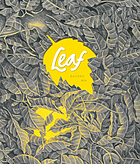 I am not sure how I found out about Leaf by Daishu Ma but I am glad I did. Such a gorgeous book. Have you heard of it?
Leaf is a picture-only graphic novel that tells the story of a leaf, or rather the story of a young man who finds an unusual leaf while out walking one autumn day. He journeys around his town trying to find the tree from which this leaf came but without success. He finds a woman who studies leaves and she does not know anything about it either. She puts the leaf in a special jar to preserve it. The young man carries the jar with him everywhere. But then an accident and the jar breaks and the leaf gets sucked up into a place where leaves from all over are collected and sent to be burned for electricity. He chases down the leaf, trying to save it. And something beautiful happens, I won't say what, you will have to read the book and find out.
Because this is a story told completely without words, the art is extremely important. From small panels to large panels, from multiple pictures on a page to one picture that covers both pages, the detail is amazing. The pictures are done in pencil, mostly gray graphite, but then there are colors blended in to highlight: pale blue and yellow. These are used sparingly and create a richness and magic that is delightful.
The book itself is a lovely thing. Large-format, about the size of a piece of A4 paper, hardcover with thick matte-finished paper. The cover of the book has a cutout in the shape of a leaf through which the title and the author's name appears.
For a taste of this book, visit Daishu Ma's website. I don't know much about Ma, only that she is Chinese. She completed a business degree in the UK before deciding to follow her childhood passion by attending Central Saint Martins College of Art and Design in London. As far as I can tell, she does a lot of illustration but this is her only book.
Leaf doesn't take long to read and that means you can read it several times. I recommend multiple readings and with much lingering over your favorite drawings. Also, if you have children around, I bet it would be really fun to read with them and ask them to tell you the story. It is clear what the story is, but at the same time there is lots of room for imagination. Don't miss this book if you can help it. And let's hope Ma gives us more.